R.E.M.
Button from
Lifes Rich Pageant Tour, 1986
Okay--I promised/threatened in a post from last year that I'd soon be writing a longer piece on R.E.M., and here it is. So, if you don't like R.E.M. and/or have never had a favorite band or have never been moved by music(any kind of music, but especially rock and roll), then just skip this and come back next week...
Last night I watched R.E.M. get inducted into the Rock And Roll Hall Of Fame. I first discovered them my freshman year at college and it changed my life. No joke. I was a horribly lonely and insecure skinny little art major at James Madison University, looking for something/anything to connect with, something that spoke to me. I came to college with all the holdovers from my early 80's suburban high school years: stale prog rock(Genesis, Yes), Claremont & Byrne comics that I thought were the epitome of the comic book art form, polo shirts, and lots of other boring stuff that I was quickly growing disenchanted with. I spent my first semester at JMU feeling miserable and scared, not really socializing and just sort of going through the motions to get decent grades. I started hanging out alone most of the time, walking around Harrisonburg and spending a lot of time haunting record and book stores. On one such record store trip, I realized I was sick of everything I had been listening to and I wanted something completely new that I had never heard before. I scanned the albums until something caught my eye in the "R" section: Reckoning by R.E.M...the album cover was bizarre and captivating, with strange song titles like "So. Central Rain" and "7 Chinese Brothers." I dimly remembered reading a positive review of one of this group's albums somewhere, and I think I might have seen the "So. Central Rain" video on MTV(this was back in 1984 when they still played music videos). Whatever it was, something about this weird little album did speak to me, so that was that: I was trying something new and R.E.M. was it. Back in my dorm room, headphones on, I listened to the album and was instantly and powerfully hooked! I don't think I can describe the music very well and do it any justice, it was just a "Beatles-on-Ed-Sullivan" kind of eye-opening experience for me.
Things started to change very quickly after I bought that first album...Not only did I become an R.E.M. fan, but through interviews with the band and by researching songs they covered I found dozens of other new and interesting musicians to get excited about(Robyn Hitchcock, The Velvet Underground, The Replacements, Television, X, Billy Bragg, and on and on)--I was saved from dreary Prog-Rock Hell! I also began to come out of my shell--finally making friends at college, going on group road trips all over Virginia to see R.E.M. play live. I'll never see another concert as good as that first R.E.M. show I saw in 1985: me and six or seven friends who knew every word to "Gardening At Night"(well, as much as anyone can know all the words to any of those early songs), an encore set that went on longer than the main set, covers of everything from "Toys In The Attic" to "Behind Closed Doors!"
All these changes in my musical life inspired me to experiment with my own chosen art form, trying non-superhero comics (like Love & Rockets, at least after the early issues) for the first time, which led to me trying to discover other art styles and art forms and break out of my very stilted comic book only drawing style. I actually stopped drawing comics for a while(something I'd been doing since I was a little kid) and started to let go of old influences as I took in new ones, concentrating on figure drawing from models and life drawing--the two most important art-related things I took away from my college experience.
Okay, I know it may seem like a stretch, but it's hard for me to put in words--I'm an artist not a writer! All I know is that I had sort of a creative and social awakening at the same time I was discovering this band, and it is absolutely impossible for me to think of that period of my life without hearing R.E.M. songs in my head.
I continued to follow the band, and their music continued to be the soundtrack to my life. I distinctly recall listening to Automatic For The People repeatedly while working on Legionnaires, going to see a great show on the Monster tour with a new group of good friends, and how much "Why Not Smile" from Up helped make some bad times a little better later on. Sounds corny, but that's me--sappy and sentimental...
In 2004, thanks to the love of my life, Xan, I was able to meet R.E.M. after a show in Cincinatti, almost exactly twenty years after I stood in that Harrisonburg record store looking at the cover of Reckoning. We splurged on tickets for good seats and went on our own little two-person road trip. I brought a camera and took some pretty decent photos from the sixth row, and I could have gone home right then and would have considered it a great concert just because of our phenomenal seats, the great setlist, and all the photos. I had heard the band would meet and greet fans after shows, but I just thought it'd never work out, and if it did I'd spaz out and feel like an idiot fanboy. Xan, a veteran of waiting around after concerts to meet bands and get autographs, prodded and reassured, and we ended up waiting with other fans after the house lights came up. The band did indeed come out and shake hands and talk with everyone--they were as nice as could be, and even a little shy, (except for Mike Mills, who looks like he should be the shy one) and very humble-- every one of them. Of course I was a complete spaz and blanked completely on what to say to them(I think I managed "thank you"), but we took some photos and got our ticket stubs autographed, and I was buzzing all the way home(non-alcoholically, of course). Incidentally, I eventually had Peter Buck sign my old copy of Reckoning at a Robyn Hitchcock show(see the archives for November 2006), but by then I was a veteran of these things myself, having met tons of bands after shows and I knew enough to bring something to get signed.
So...as I said at the beginning of this monstrosity of a post, I watched the Rock And Roll Hall Of Fame Induction last night. I found it unexpectedly moving--from Eddie Vedder's funny and touching induction speech(which strangely mirrored a lot of my own feelings and experiences with R.E.M.) to seeing how choked up and nervous Mike Mills and Michael Stipe were; as well as seeing and hearing Bill Berry playing with the band again after leaving ten years ago. There was also some of that old-style R.E.M. unpredictability with Peter Buck throwing his monitor offstage as well as the band unearthing "Gardening At Night" during their performance. What most moved me was thinking about how much had changed since 1984--who I was back when I first heard that unknown little band as opposed to who I was last night, watching a superstar rock band with a twenty-six year career behind them. I don't know—like I said. I'm an artist, not a writer—I'm not sure what I wanted to say or exactly how to end this except that it was just fun being excited about my favorite band again and being happy for them, like watching your team win the Superbowl, maybe? Oh, well—enjoy the photos, at least!
--C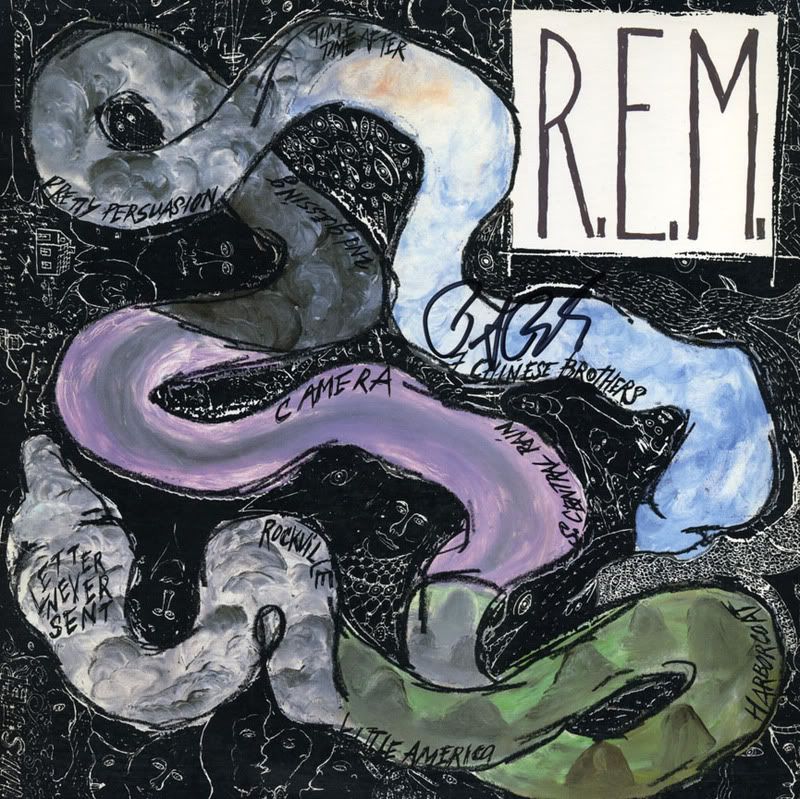 Reckoning LP cover, signed by Peter Buck
23 years after I bought it!
Ticket stub from 1986--check out that price!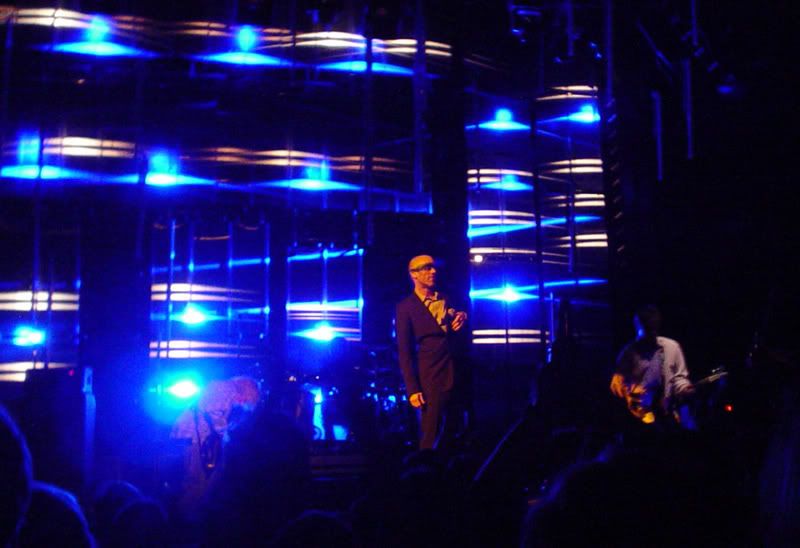 Cincinatti, 2004--"Begin The Begin"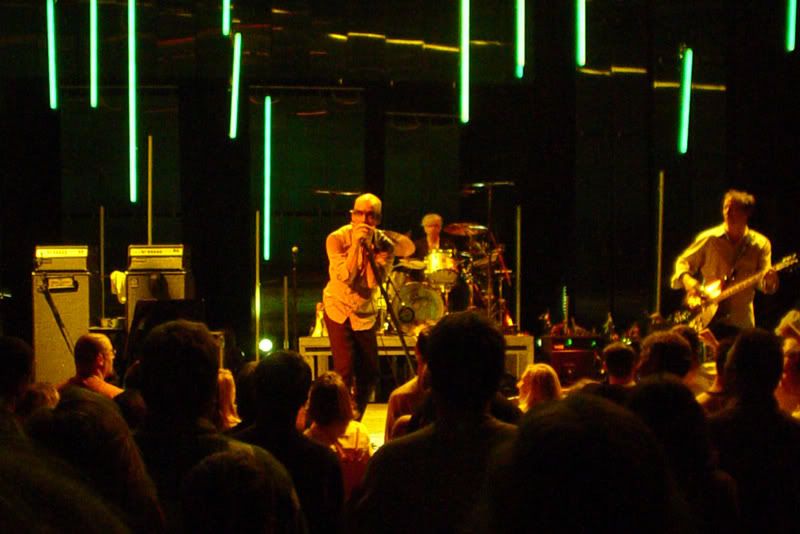 Cincinatti, 2004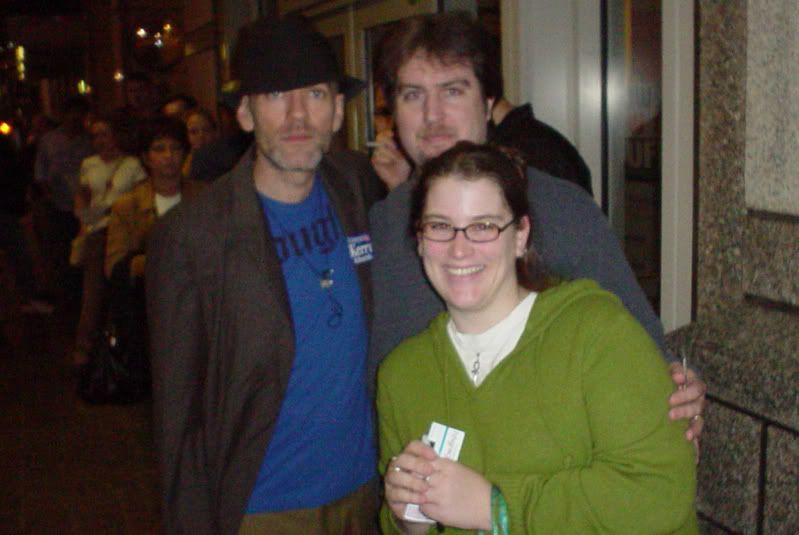 Cincinatti, 2004