London, Part 2
These are photos from Tuesday, our second full day in London. We were remarkably jetlagged (well, at least I was) so we weren't leaving the hotel until at least noon most days, and Tuesday was no exception. Yet suprisingly, we were still able to get a lot done.
This was our first really touristy day. We didn't take any guided tours or anything, but we did see a lot of famous and historic places. Our first stop was Piccadilly Circus, which was a lot smaller than I had expected based on what I had seen in the movies. That's me along with a million other tourists (you don't see a lot of British people in certain areas-I suppose you don't see a lot of New Yorkers in the gift shop of the Empire State Building, either) sitting on the steps by the statue of Eros.
You can't see it in the photo, but off to the left (my right) at 1 Piccadilly is a huge flagship Virgin Megastore. Oh, how I miss it. Ours in Columbus was taken over by a Crate and Barrel-whatever. Anyway, we found some good only-get-it-in-England stuff, like the Kirsty MacColl video collection DVD. And off to the right (my left) and down the street being blocked by the City of Westminster truck is the Trocadero mall, which not only has a great sweet shop and arcade (with games like those casino games at Dave and Busters but you use tuppence instead of tokens) but also had a stocked to the gills HMV record store. I got the Simple Minds Silver Box set-woo hoo!
The blue bag I am holding is from the chocolate counter of Fortnum and Mason, 81 Piccadilly. We just had to come here and see the inspiration for the names of everyone's favorite geek twins Fortnum and Mason Funt from the Tom Strong universe! That's Chris gazing up at the sign, possibly thinking "Those little Funt brats don't deserve to be named after a store this wonderful!" Actually, he probably wasn't thinking that, but I sure was! I swear I'd punch those kids if I met them for real. Anyway, Funts aside, Fortnum and Mason is a very classic department store, with classic designs and fun foods. All kinds of confectionery, fruits, condiments and teas. They sell a fabulous champagne and white chocolate truffle.
We assumed we would spend countless hours shopping, but we really only spent about 3, so we decided to take the tube to the Tower of London and just see what we could see while we still had sunlight. Again, we didn't pay admission to tour the inside, but we saw the outside and took our own photo in front of the Tower Bridge. That's one of the better attempts at self photography below. Not the original, of course, as the original is in Arizona for some reason. We then decided to take a walk along the Thames path, and just see how far we could get.
We walked for a while-I wasn't really measuring-and then we started seeing signs for St. Paul's Cathedral. When I saw that I said "Oh, sweetie, we have to go there and feed some pigeons!" So we followed the path (being such a huge and historic city, London does a really good job of keeping points of interest well marked-very nice for the traveler) until we got to the Millennium Bridge which was a very neat yet scary structure-I am afraid of bridges. Hang a right from the bridge from the Thames path and you will go right to the Cathedral. It is amazing. Huge and gothic, but expensive to get in without attending a service so we just stuck to the outside steps. That's me on the steps of the Cathedral with alas, no pigeons to feed. But that was okay, because I had no tuppence anyway. And it is probably for the best, since as the photo below clearly illustrates, London is home to some fat freakin' pigeons! The must have been well fed by all of the Mary Poppins fans who visited before me.
As we walked along the Thames, we could see in the distance the London Eye, and we thought it looked like fun so we decided to go check it out. But the London Eye is really big, and it looks closer than it really is, so we decided to save that for another day as it was already dusk by the time we left the Cathedral. After a quick stop into Marks and Spencer for a drink (Florida orange sparkling water-yum!) we hopped back on the tube and went back to the hotel.
By the end of the night we were tired and our feet hurt, so we bought Indian takeaway from the Curry Palace in Bayswater and headed back for the hotel. Our super cool hotel provided our room with a DVD player, so we watched the Brian Blessed commentary on the Flash Gordon DVD we bought at Virgin. Hilarious-you've never heard a man so proud of his bare legs!
All of the other nights we had just watched TV at the end of the day, and we were shocked by the amount of American programs we saw. A lot of it was good sci fi like Star Trek and the Logan's Run TV show, but some of it was just really bad. It struck me as odd, since geeks here in America have always placed British television (specifically comedy like Monty Python and sci fi like Dr. Who) in a higher echelon than American shows, but the TV we send over there are shows like Ally McBeal and Everybody Loves Raymond.
Not
a fair trade, in my opinion.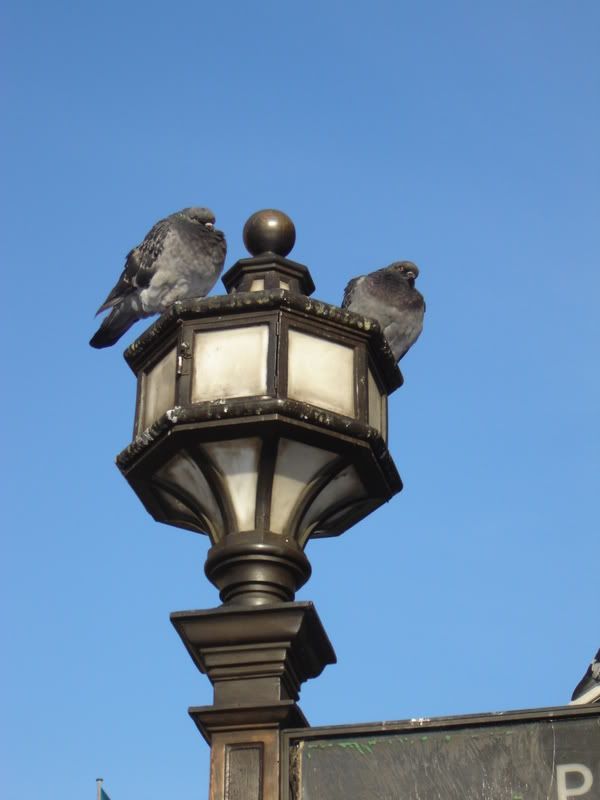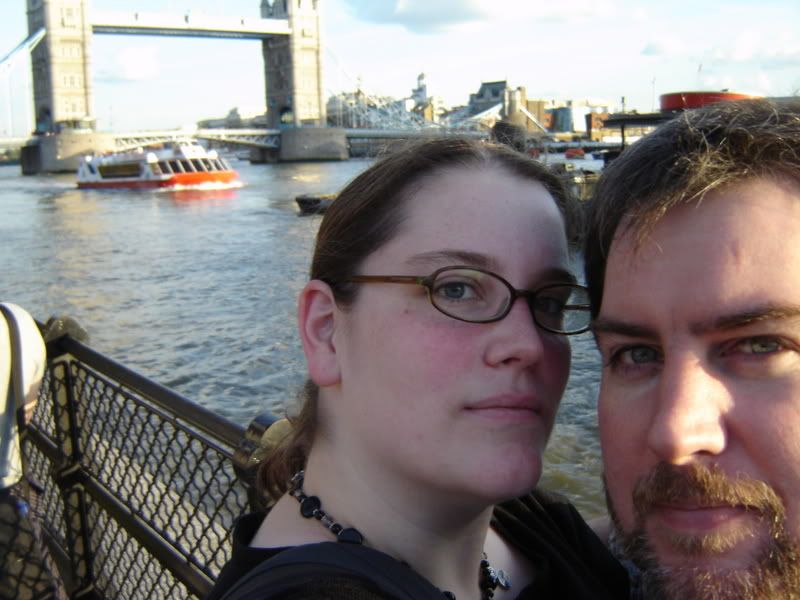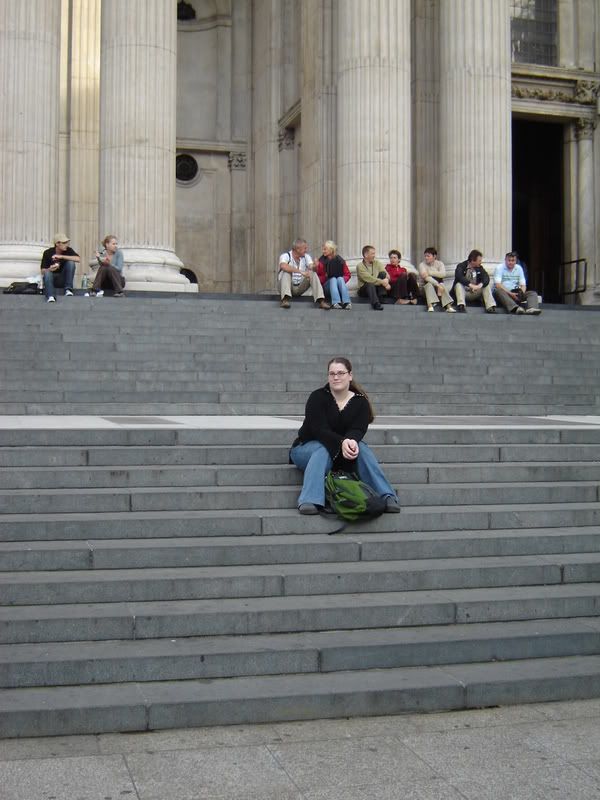 From top:
1) Holy socks--loyal Tom Strong readers should recognize the name of this department store
2) Xan at Piccadilly Circus on yet another beautiful sunny day in London
3) Fat Picadilly pigeons
4) My favorite part of the trip--a walk along the Thames, with stops at the Tower of London, the Tower Bridge, London Bridge, and St. Paul's Cathedral
5) Xan on the steps of St. Paul's, trying to recreate a scene from Mary Poppins--the local pigeons weren't cooperating on this afternoon (I swear this is my last Mary Poppins reference)