London, Part 3
Hey kids-Big Ben, Parliament!
These photos are from Wednesday, our most touristy day yet. Again, we took our time getting out of bed, but that was fine because that morning was quite rainy. And besides, this was a vacation, not a field trip. We had decided Tuesday night to ride the London Eye today, but we wanted to do that at night anyway, so we spent the day soaking up London history and politics.
Since the Eye is on the opposite side of Westminster Bridge from Big Ben, Parliament (this joke never gets old for me!) we decided to check them out before riding the Eye. To get there you take the tube to the Westminster station, which is very huge and futuristic-like taking a train into a Fritz Lang universe. After coming up the stairs back onto the street, we stupidly asked each other, "So where is Big Ben?" Let me tell you, Big Ben is no misnomer-it is huge! You think, hmm, where is it, then you crane your neck as far back as it can go and realize that you are under it. It and the Houses of Parliament have fantastic architecture, and look very pretty on the water, especially at night. I think it is always good to dress up your government.
Westminster Bridge, as we found out later, is the bridge that Cillian Murphy walks across with his collection of Pepsi as he searches for signs of life after leaving the hospital where he had been comatose in 28 Days Later. I keep meaning to look up if the hospital was St. Thomas Hospital which is right there, but I keep forgetting.
After making several European Vacation jokes, we walked around the corner to St. Margaret's Church and Westminster Abbey. The Abbey was so beautiful-again, from the outside-10 pounds apiece to get in!! It is ginormous as well. Chris had to back up like 500 feet to get a photo of me and the Abbey. We decided to skip 10 Downing Street, as this was right after Mrs. Blair made that nasty comment about the new Labour Party candidate, so we made our way through St. James Park towards Buckingham Palace.
St. James park was beautiful. Very tranquil, and lots of very large birds. It was approaching dusk while we walked, so it was cool and breezy and just wonderful. Once we got to the Palace, we nearly, (well, I nearly-Chris was smart enough to use a sidewalk) were mowed down by a taxi while trying to cross the street at the roundabout. These things are crazy-British drivers are very aggressive, and I think it is mainly because of the roundabout. Driving on the left and having to merge all the way to your right to get out of it when there are like 5 rings of traffic is no easy task.
Not much was going on at the Palace-no changing of the guard, no queen coming out in her coach, just us and other tourists taking photos of it and the very large (and a bit gaudy in my opinion) statue of Queen Victoria across from it. We tried and tried to take our photo in front of the Palace gates, but they all came out blurry. Oh well, we know we were there.
After Buckingham, we walked along the opposite side of the park back to the Westminster Bridge to get to the Eye. The London Eye is right on the bank of the Thames and is near the London Aquarium and the Dali Universe, as well as Madame Tussaud's Wax Museum, so there was a lot of activity, but we only spent about 30 minutes in line to get tickets and board. By the time we got in line to board, it was nighttime, and the city was all lit up and beautiful. And since the line was fairly short, we rode in a pod with only 3 other people, so we had plenty of room to look around at all angles.
The London Eye is absolutely amazing. It was my favorite part of the trip. It really is just a giant Ferris wheel built by British Airways (when you get in there is a pre-recorded announcement that says "Thank you for flying British Airways London Eye"-hilarious!), but each pod is totally enclosed, and the glass even curves down at the bottom of the pod so you can see below you. The pods can hold up to 25 people, but our small crew was much nicer. And if you start to get a little vertigo-y (a likely scenario as it's highest point is 135m) there is a wooden bench in the middle. The nighttime photo below of Big Ben, Parliament (Chevy, you rule!) was taken when our pod was at the topmost point of the wheel. It was beautiful, if not a bit scary, as Chris' expression illustrates so well in the photo of him in the pod. I took really slow steps to the edge of the pod, then held on quite tightly to the handrail, but I was fine, I think because we were completely enclosed. You can't really see my white knuckles in the photo!
The ride takes about 30 minutes, and it is just wonderful-I highly recommend it. And even though there were other people with us, it was still romantic for Chris and I. We got to kiss each other on top of London, which I think is pretty damn cool.
As exhilarating as the ride was, we were pretty tired by the end of the night and we needed to get up at around 6am the next morning for our trip to the country. We stopped at the Tesco to find something we could eat in the room, and their pre-made microwave meals were quite good. Chris had a chicken tikka masala, and I had a yummy Cumberland pie. I also ate an entire box of white chocolate Magnums-oh my. In my defense, there were only 3 in the box (and Chris did eat one) but they are huge, and oh so dreamy. Vanilla bean ice cream covered in white chocolate. I really hope I can find them here somewhere. I miss them already.
I think we fell asleep watching Wire in the Blood, which oddly enough we had already seen back home. Go figure-one of the few times we were able to catch British TV, it was a rerun.
Oh, and that photo below? Big Ben, Parliament!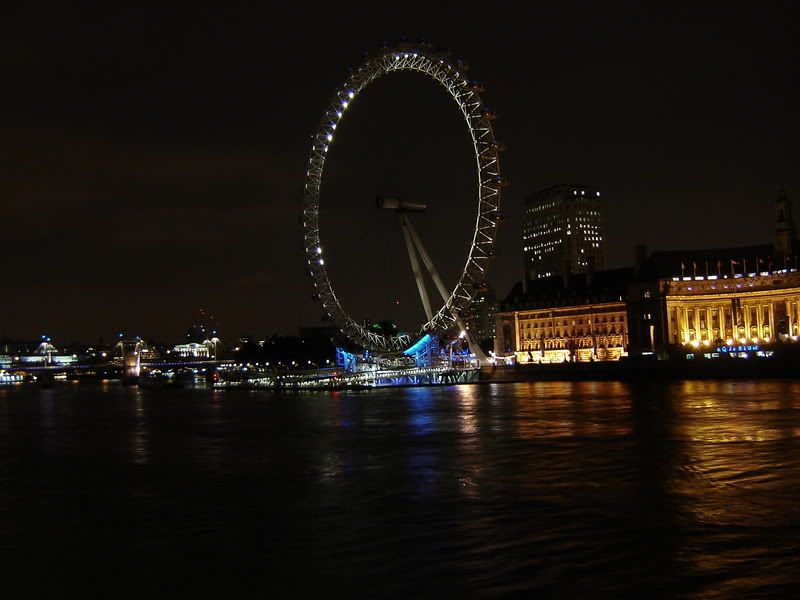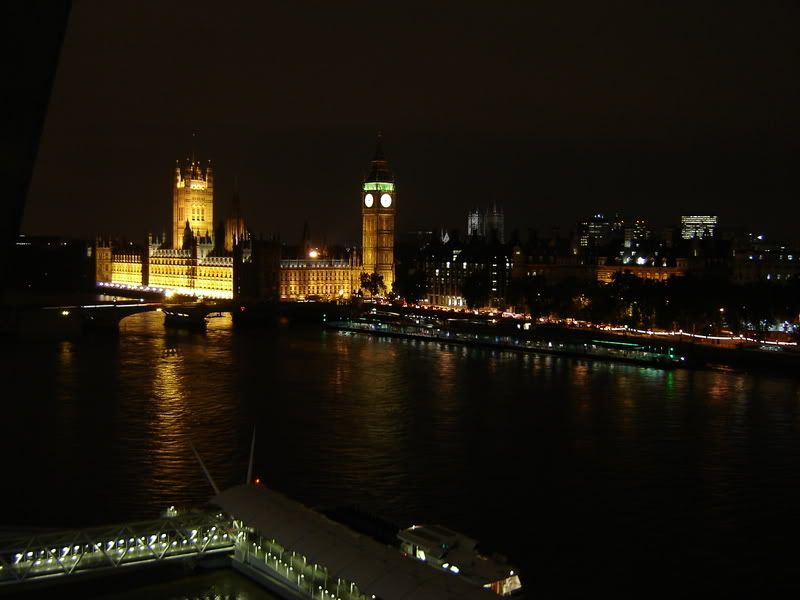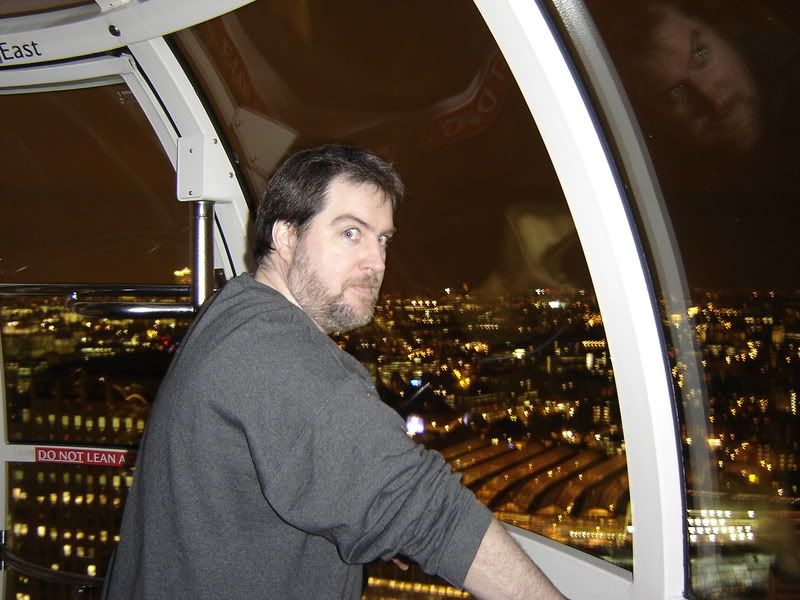 From top:
1) Ahem...
2) Buckingham Palace
3) The London Eye
4) Xan aboard the London Eye at the start of our ascent
5) You-know-what, from the top of the Eye
6) Me on the Eye, somewhere near the top, overlooking Victoria Station