London, Part 4
Today was our excursion to the country-A trip to Oxford, then onto Stratford-upon-Avon by way of the Cottswolds. We met the tour group at Victoria station, waited too long for I'm still not sure what, then boarded a bus and we were on our way.
As it is all over the world, the countryside is a much different atmosphere than the city. But the English countryside was very lovely. It is very green (well it was this time of year) and it really is rolling-it is very hilly. It is similar to the American countryside, with quaint farmhouses on large farms with lots of livestock, but while here you see cows, the English countryside is full of sheep. And the farmhouses are much older in some places. You really get a deeper sense of history there than here in the States. In America, the country seems more like what you read about in novels of childhood or the dust bowl days, but it always seems very 20th century. In England, the country feels positively medieval. All the beauty and none of the plague-it's just fabulous.
Our first stop was Oxford, and just being on the campus makes you feel smart and learned. It is very gothic and a bit imposing-I'm sure it can be quite a fright for the average freshman. It also gives off an incredible sense of history. It has many beautiful libraries, and there is a rule of absolute silence when you are there. Something I truly miss about American libraries, or should I say American free-video-store-and-bratty-kid-dropoffs. Sorry, that is a rant for another blog.
I did get the impression that it could be frustrating to go be a student at Oxford. Imagine running to class or pounding the hell out of your bicycle pedals to get to an exam and you get blocked by tourists on a guided tour. We saw about 8 other tours walking through the campus while we were there. I used to get annoyed by high schoolers touring for a college visit-imagine having to get around people who can't see you for the camera glued to their eye.
Strangely, even Oxford has stupid college crap you can buy. Mugs, hats, sweatshirts that say Oxford XXL...this surprised me. I'm sure it was all for the tourists, but still, it struck me as odd. We thought about buying an Oxford dictionary from one of the Oxford school bookstores, but the idea of carrying it back was more unappealing than the idea of owning such a thing. I'm over the thrill of owning something just because it was purchased someplace cool.
We then boarded our bus and drove to Stratford-upon-Avon. We passed through several small villages and saw some beautiful thatch roof cottages (Trogdor was nowhere to be found, sadly). Stratford is, of course, right on the Avon river, and is just lovely. It is a cute little small town that just happens to have a major tourist destination like the birthplace of Shakespeare. It was a neat place, just a cottage (it is pictured below) but very neat inside. Only outdoor photos were allowed, sadly. But being the theatre geek that I am it was nice to see. I would have liked to check out the Royal Shakespeare Company, but there was not a current production and it was not on the tour.
I learned something about people when we were touring Shakespeare's home-kids on field trips are bratty little hellions, no matter where you happen to be in the world. They run around when they are supposed to be with the group, they shuffle their feet and don't look where they are going, they talk out of turn, and they hate everything-it's all stupid to them. I just wanted to hug some of the teachers and tell them it would all be over soon. I so hate bratty jaded children!
The town itself is full of small shops and businesses with Shakespeare-inspired names. There is the Food of Love cafe, Iago Jewelers, and Much Ado About Toys to name a few. We ate lunch at a little cafe called Munchies for Lunches, where we ate some of the best sandwiches of our lives! Chris had a warm bacon, chicken and cheese sandwich on a baguette, and I had warm cheese and onion on baguette and a bag of roast chicken crisps. Double yum. I could easily get addicted to grilled cheese and onion sandwiches. On our way back to the bus I stopped at a sweet shop and got a bag of jelly babies, another English addiction of mine.
We then drove to the village of Shottery to see the home of Anne Hathaway. Her family home was sold to the Shakespeare's Birthplace Trust in 1911 and is now a museum, just like Shakespeare's home. Apparently, her family was quite wealthy, which was good because there was a 40 pound fee that needed to be paid in order for the 26 year old Anne to be wed to the only 18 year old William. And out in the country centuries ago, that was quite the chunk of change.
Her family home was beautiful. A gorgeous thatch roof cottage surrounded by tranquil gardens and an apple orchard. You could almost hear Beethoven's 6th playing through the clouds as the setting was pastoral defined. The Shakespeare's Birthplace Trust built a little hut with a bench inside, and you can sit in there and listen to recordings of readings of Shakepeare's love sonnets. That's me in the hut in the photo below. That bright orange thing on me was a sticker given by the tour to indicate that I had paid for the scrumpey tea portion of the tour, which included cider and cheese tarts, a traditional tea menu from the time period. Quite good, but on a stomach full of cheese and onion sandwich, I think it was wasted on me.
The drive back to London was on the freeway, which was a lot like...driving on the freeway. Some things are universal. But it did take us on a little impromptu music roots tour, as we drove past White City, Acton and Ealing, all of which figure into the musical legacy of Pete Townshend and The Who, as well as Swindon, the hometown of band members from both XTC and Supertramp. We didn't find ourselves, although we were on our way back home.
We'll admit it, we like Supertramp.
One thing I realized about myself while taking this guided tour is that I have a love/hate relationship with guided tours. A guided tour is great because you have a guide that handles all the money, tells you lots of neat facts about where you are, and you have a driver so you don't have to deal with driving or worse, parking. But then on the flip side, a guided tour can be hell because you always want to stay longer at the places you visit for a short time and vice versa. You also have to deal with the other people on the tour, and there is always someone who didn't listen and then gets lost or forgets when we leave or something stupid like that, or isn't listening and gets the facts wrong and sounds like an idiot recounting the day on the busride back. And of course, there is always someone who has to pee at the worst possible time.
The tour was able to drop us off 2 tube stations away from our hotel, and again, we were tired and really not in the mood for people, so it was another night of Tesco microwaveables in the room. Nothing fancy, but I swear it was the best microwaveable macaroni cheese I've ever eaten. Let me tell you, the Tesco does good work. We also had some crackers and a pre-sliced selection of British cheeses, as the label said. Cheddar (yum), Red Leicester (yum yum), double Gloucester with onion and chives (mega-omni yum), British brie (quite good), and Stilton. Not a big fan of Stilton by itself. It is better in salad.
By this night our colds that were hinting around the night before were in full gear. Along with the food from the Tesco I bought a box of Kleenex, and they were half gone by morning. Chris also was nursing some pretty bad blisters on his feet. He was able to get some foot pads at the Boots on the corner, but finding scissors to cut them to size was an oddly difficult task. We had to go to the office supply store down the street (Ryman Stationers) and when we found them they were under lock and key and an employee needed to unlock them for us. I was surprised that we couldn't find any non-first aid scissors at the Boots. Granted, it is a drugstore, but it sells wrapping paper! If you can buy wrapping paper, you should be able to buy tape and scissors. If anyone knows where Boots keeps scissors, let me know.
I suppose that is unfair. You can't buy scissors and tape at Hallmark, and they have wrapping paper. I guess when you have a bad cold and a blistered husband, you just want everything you need to be right in front of you.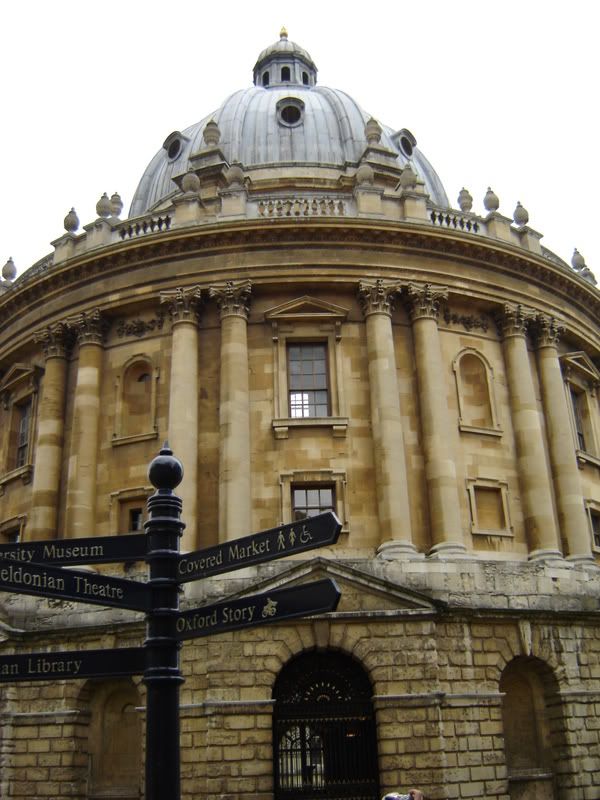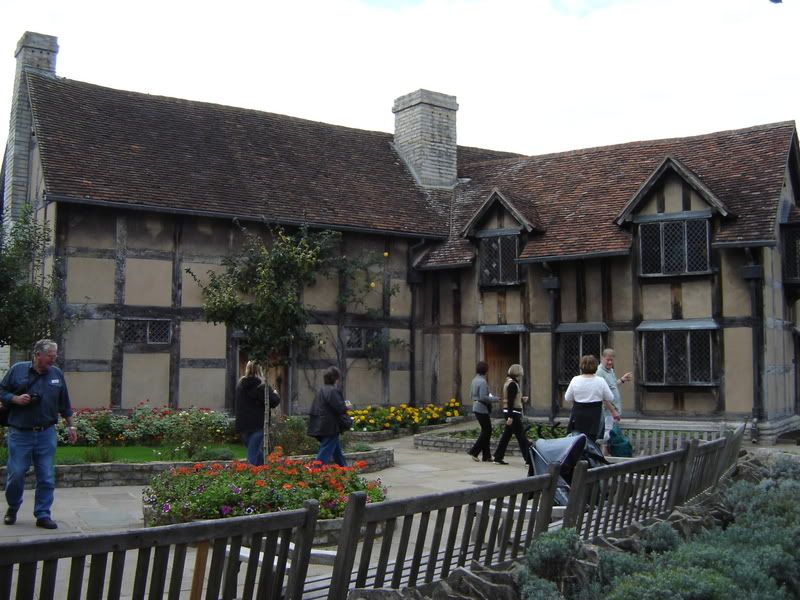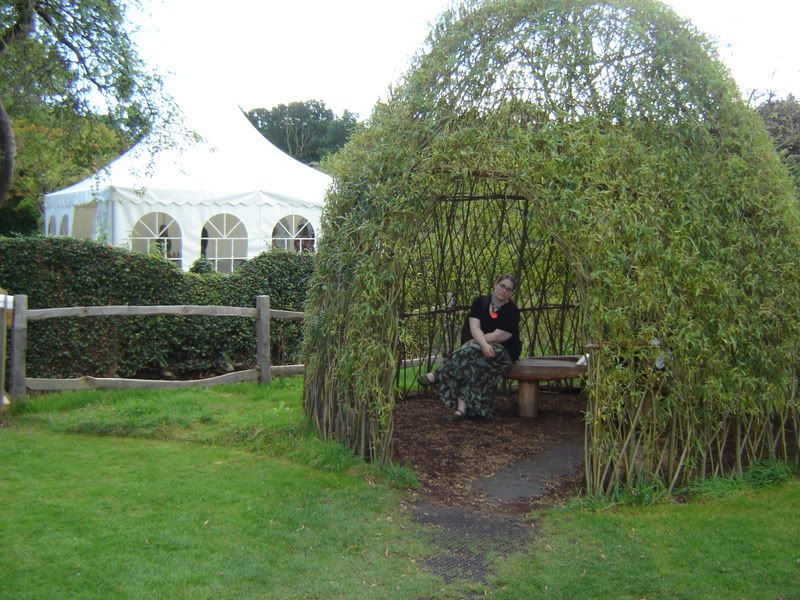 From top:
1) Oxford
2) Stratford-upon-Avon--this is the Avon, with the Royal Shakespeare Company just to the right of center in the background
3) Shakespeare's Birthplace
4) Xan listening to sonnets, with tent for scrumpy tea in background