Reviews
In the comments section of my last post, my friend Leighton gives a link to a review for Midnighter #1 (thanks, Leighton, and thanks again for trying to sell some comics for me!). Fortunately it was a good one--I had sworn off reading reviews because they can depress me or even anger me and rarely if ever had any constructive criticism, but I've read a few for this book because I was anticipating a little controversy and was too curious to resist.
I have to say most reviews have been favorable, but a few have been vicious(one guy writes about how I've lost it and am too lazy to draw detailed backgrounds anymore--nevermind that this book took place in a desert and a featureless metal cell & corridor...) and a few have just missed the point, dwelling on either Midnighter's sexuality not being featured heavily enough or how the subject has been dealt with in a clumsy and heavy-handed way. The award for missing the point the most, however, goes to the internet pundit who was outraged that--according to him-- Midnighter killed U.S. troops in this issue(for the record: he killed a caucasian mercenary--no U.S. flag or anything similar anywhere on his fatigues--and destroyed some tanks being used by unscrupulous local chumps taking advantage of a de-stabilized Afghanistan to work out old tribal grudges...no American soldiers or patriots or even Republicans were harmed in the making of this comic book).
...I guess it's kinda obvious I'm letting 'em get to me again!
So...I'm going to start avoiding reviews again and continue trying to just draw as well as I can and tell stories to the best of my abilities. That's why I got into comics, after all.
As for what the Midnighter comic and character are all about, I'll let someone more capable and qualified talk about that:
HERE
is a link to an interview with Midnighter writer Garth Ennis(actually it's kind of a press release, I think, which is being used all over the place--Xan & I read almost the exact same text in a UK fanzine in Forbidden Planet in London).
--C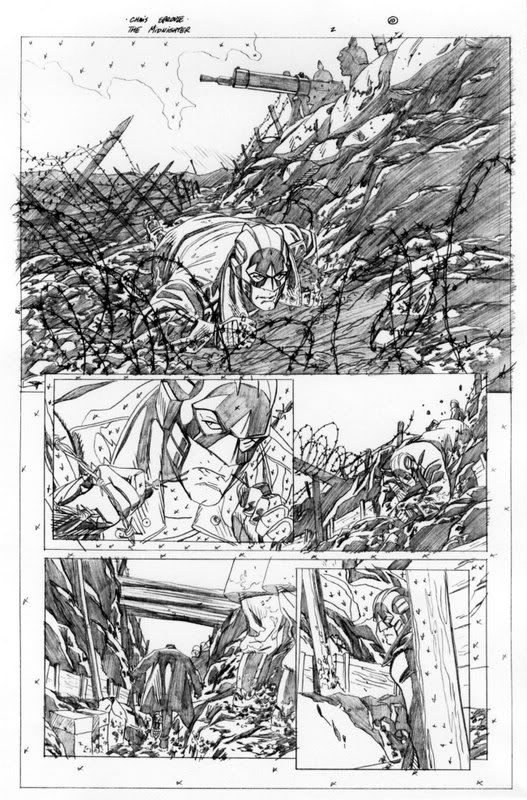 Here's a small preview of Midnighter #2--my favorite page from that issue, in pencillled form. Too bad I'm too lazy to draw detailed backgrounds anymore or this would have been a really cool page...