Brrrr....
Not much news from the Sprouse House as we hunker down inside and try to avoid the brutal cold weather this week and last.
I finished up the first big Midnighter storyline and began working on covers for the next few issues, one of which I've posted below. Next up is a short story for the new Spirit comic (to be written by Walt Simonson, one of my comic book idols), and then back to the Midnighter for more dark humor and all-out (some might say "over-the-top")action.
The cover of Midnighter #7--freefalling with zombie-cyborgs in pursuit!
Xan has kept busy during her off hours bonding with her dad as she helps him figure out and fill up his brand new iPod. It's actually really cute watching them together, talking music and trading songs(doo-wop, soul, and classic rock, mostly).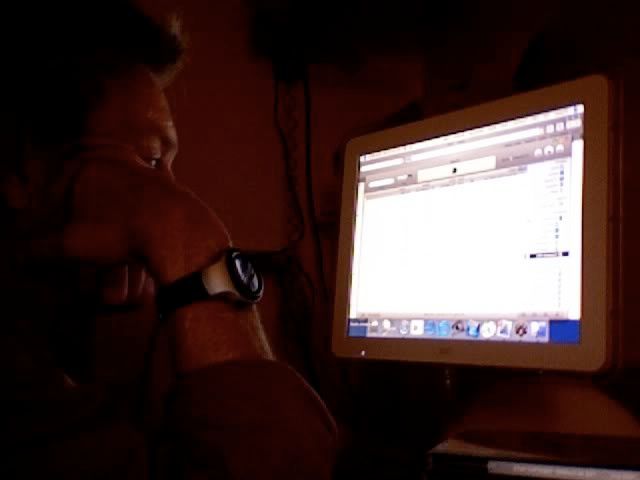 Xan's dad: hyp-mo-tized!
Jess-Belle is loving having her humans stuck at home with her so much, but she doesn't seem to be enjoying the constant static shocks that come with winter. This hasn't stopped her from sleeping on top of the cable box, my computer monitor, my drafting table light box, and various other electrical appliances for warmth, however.
Yes, she really is sleeping like that in this photo...
Just around the corner for us: a trip to Seattle in late March/early April for the Emerald City Comicon, another jaunt up to Cleveland's Beachland Ballroom, and just maybe a comic convention in Toronto in April.
--C